Fashion Friday: Spring
It's that time of year. When I want to hide all of my boots and sweaters and buy a whole new spring wardrobe filled with pastels and sandals. If only I could 🙂 There are a couple of spring staples I have been eying…
Wedge Sandals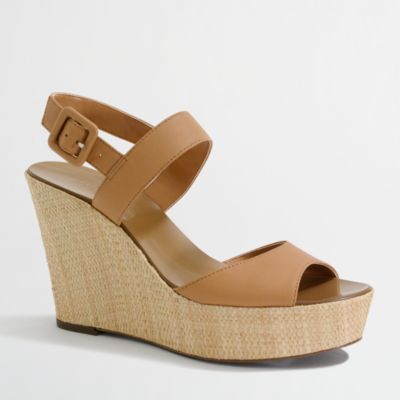 I've been stalking these J.Crew factory ones and might just pull the trigger when they have their next sale. I love the versatile color and chunkiness.
These are also pretty fab – though sometimes I have mixed feelings about cork.
A chambray shirt
This one from Madwell just looks perfect.
Neons
This tee is an easy way to add a punch of neon into your wardrobe without going over board. Plus it's currently $15 at Ann Taylor Loft!
Colorful skirts
Ann Taylor Loft nails it again.
A fresh take on a classic Navy Blazer

This draped navy blazer from Ann Taylor Loft is a great update on a classic and perfect for spring.
I of course, do love the maxi dress, which hasn't gone away just yet. I bought two new ones a month ago at Marshall's. So cheap and so versatile! I like pairing mine with a jean jacket and sandals.
What do you have your eye on for spring?
Stephanie
Monday's workout: Rest
Monday's meals highlight: Homemade nachos for dinner
Tuesday's workout: 75 minutes yoga
Tuesday's meals highlight: Hmmm
Wednesday's workout: 75 minutes yoga
Wednesday's meal highlight: Flatout pizza
Thursday's workout: Bar Method
Thursday's meals highlight: Veggie burger from Commissary
Friday's workout: RestFriday's meals highlight: Whatever I tonight at the ballpark!
P.S. GOOD LUCK to Addy and all the runners participating in the first Nike Women's Half Marathon in D.C. this weekend. Go, ladies, go! I'll be out there cheering for all of you 🙂